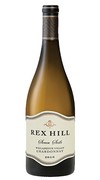 2016 REX HILL Willamette Valley Seven Soils Chardonnay*
Product Description
Pairs With:
---
Seared scallops, roasted chicken, hard cheeses, corn chowder, pasta with cream sauuce, focaccia dipped in a buttery olive oil, arancini stuffed with fontina, polenta with parmesan and cream.
Recipe from Chef Amy:
---
Corn and Potato Chowder
6 ears of sweet corn
2 Tbs butter
2 medium shallots, chopped
2 Yukon Gold potatoes, peeled and diced into 1/2 inch cubes
1 cup half and half
1/2 cup grated parmesan cheese
Salt and pepper to taste
¼ cup minced chives
Shuck corn into a large bowl, and reserve the cobs. Place the cobs in a pot with 2 quarts of water and simmer for 30 minutes. Cool and strain, reserving the liquid.
Sautee the shallots and potatoes until the onions become translucent. Add the kernels and corn broth from step 1 and bring to a simmer. Cook on low until the potatoes are soft. Add the half and half, and season to taste with salt and pepper. Top each bowl with parmesan cheese and chives.
Wine Specs
Appellation
Willamette Valley
Wine Profile
Tasting Notes
The 2016 REX HILL Willamette Valley Seven Soils Chardonnay leads with notes of Meyer lemon, lime zest, fresh cut hay and flint, with secondary aromas of golden apple and apricot on the nose. As the wine opens, deeper notes of toast with a touch of vanilla from the judicious oak treatment emerge. On the palate, this Chardonnay is energetic, waking up all senses with fresh vibrancy and impeccable balance of fruit and acidity. Lemon is again dominant and ushers in a savory, but lifted, finish. This is definitely a wine that can age in cellar for up to 10 years, but will be difficult to keep that long as it is tasting delicious now.