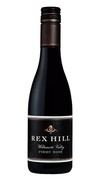 2014 REX HILL Willamette Valley Pinot Noir Half-bottle
Product Description
Pairs with:
---
Olive oil poached salmond, mushroom risotto, mild cheeses, grilled ahi, pumpkin ravioli, pork tenderloin, proscuitto, pizza with sausage and mushrooms
Recipe from Chef Amy:
---
Mushroom risotto
7 cups mushroom or chicken stock
2 Tbs olive oil
1 large shallot, minced
1.5 cups Arborio rice
1 lb wild mushrooms (about .5 lb shitake, remaining .5 pounds any mix of maitake, chanterelle, morel, or any seasonal wild mushrooms), cleaned and torn into bite-size pieces
.5 cups dry white wine (chardonnay works well)
3 Tbs butter
1 cup grated parmesan cheese
Salt and pepper to taste
1 sprig thyme or savory
Bring stock to a simmer and keep warm.
Heat the oil in a heavy-bottomed saucepan and add shallots, stirring to cook until translucent. Add mushrooms, along with a pinch of salt and pepper, and saute for about 5 minutes.
Add rice and thyme and stir frequently until it starts to smell slightly toasted, about 2 minutes. Add wine and stir until wine is cooked away. Add about 2 cups of the hot stock (enough to cover the rice) and stir until the liquid is almost completely absorbed. Continue adding the stock in about a half cup at a time, cooking until the stock is absorbed each time, until the rice becomes tender but not falling apart. You should have about a half cup of warm stock left. Remove the sprig of thyme or savory.
Stir in butter and half of the parmesan, and add salt and pepper to taste. If the risotto is very thick, add in the remaining warm stock. Serve topped with the remaining parmesan.